What were the biggest developments in the global Muslim-friendly travel industry in 2019-2020? The State of the Global Islamic Economy 2020/21 report from DinarStandard gives a detailed breakdown of the movements in the industry, with the headline being the adverse impact the COVID-19 pandemic has had on the world's travel industry.
MARKET SIZE
Muslims globally spent $194 billion on travel in 2019, up 2.7% from $189 billion in 2018.
Muslim expenditure on travel is expected to plunge to $58 billion in 2020.
The sector is expected to recover to 2019 levels by 2023.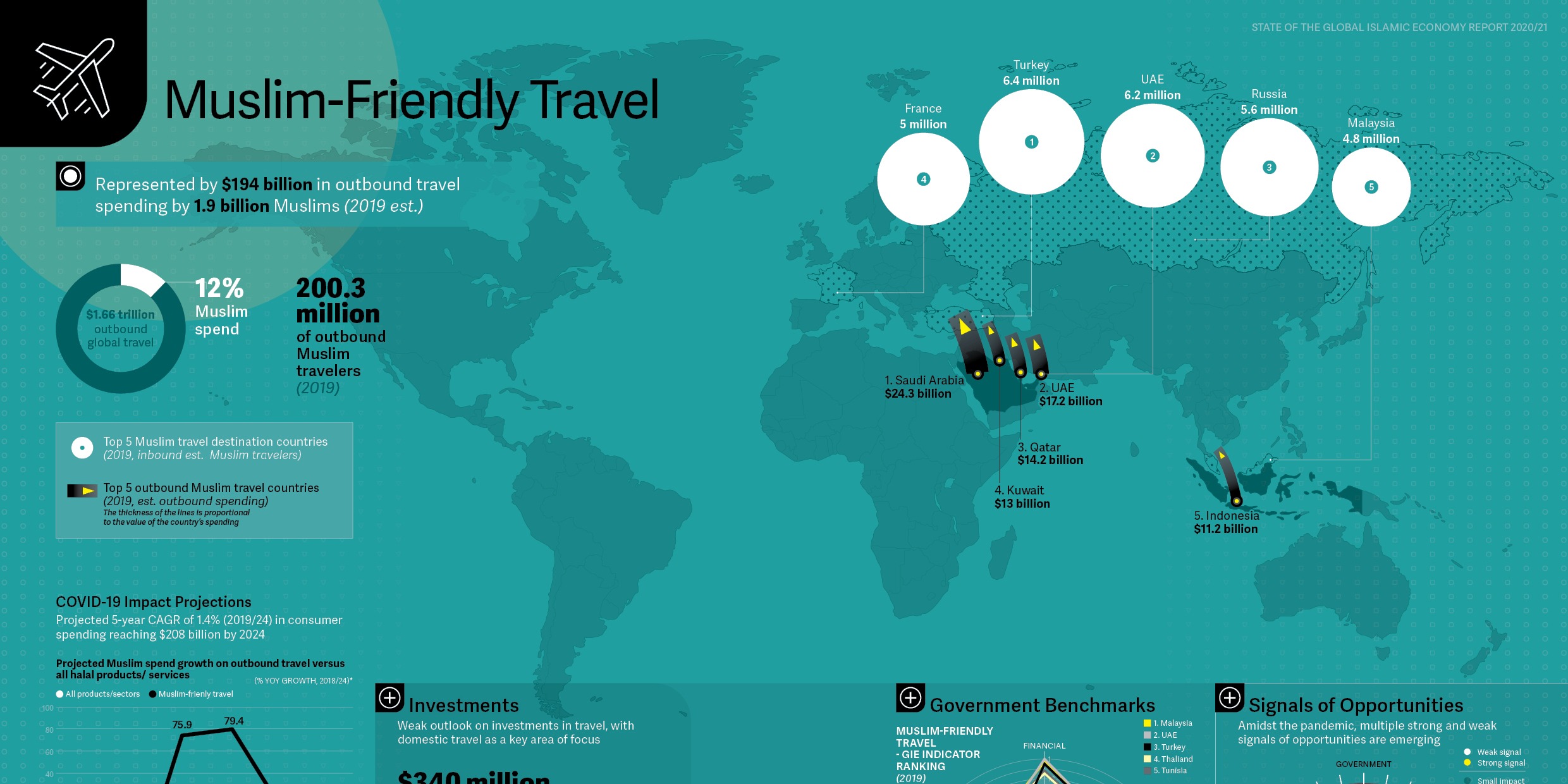 COVID-19 IMPACT
The pandemic brought the tourism industry, including Muslim-friendly travel, to a grinding halt, with tourism being one of the most adversely affected economic segments due to travel restrictions.
Governments scrambled to support airlines and the broader tourism ecosystem while struggling to strike a balance between preventing further COVID-19 outbreaks and stimulating their economies.
For many countries, tourism is a primary foreign currency earner, and the loss of inflowing cash has had a significant impact. This extends to pilgrimage, with Saudi Arabia significantly limited hajj and umrah in 2020. To put this in perspective, in 2019, 18 million pilgrims visited the Kingdom, spending around $28 billion.
Another setback for the sector was the rescheduling of the Tokyo Olympics to 2021, with suppliers in Malaysia, who were intended to cater for Muslim athletes at the event, set to lose some $300 million in potential revenues.
Investment in the sector has nevertheless continued, although at a less confident rate than before the pandemic. Indonesia-based Traveloka raised $250 million in additional funding, and UAE-based travel-tech startup Hotel Data Cloud secured $350,000 in seed funding.
While there is a diminished outlook for tourism, with the expectation being that the sector will adapt to the 'new normal' over the next year or two, a much-needed boost was given to the sector at the beginning of 2020 with the release of the Standards and Metrology Institute for Islamic Countries' (SMIIC) Halal Tourism Services standard. The standard provides guidelines for managing halal tourism facilities and services.
Leave a Reply